Philippians 4:6 Be careful for nothing; but by
everything with prayer and supplication with thanksgiving let your hearts be known unto God.
4:7 And the Peace of God, which passeth all understanding, shall keep your hearts and minds through Christ, Jesus
 4:8 Finally brethren, whatsoever things are true, whatsoever things are honest, whatsoever things are just, whatsoever things are pure, whatsoever things are lovely, whatsoever things are of good report; if there be any virtue, and if there be any praise, meditate on these things
4:9 Those things, which ye have both learned, and received, and heard, and seen in me, do: and the God of peace shall be with you.
      ~~~~~~~~~~~~~~~~~~~~~~
Psalms 46:10 Be still and know that I am God.
     ~~~~~~~~~~~~~~~~~~~~~~
 1 Timothy 4:12 Let no man despise thy youth; but be thou an example of the believers, in word, in conversation, in charity, in spirit, in faith, in purity.
4:13 Till I come, give attendance to reading, to exhortation, to doctrine.
4:14 Neglect not the gift that is in thee, which was given thee by prophecy with the laying on of the hands of the presbytery.
4:15 Meditate upon these things; give thyself wholly to them; that they profiting may appear to all. 
     ~~~~~~~~~~~~~~~~~~~~~~
Luke 17:20 And when he was demanded of the Pharisees, when the kingdom of God should come, he answered them and said, the kingdom of God cometh not with observation, 17:21 Neither shall they say, lo here! or, lo there for, behold, the kingdom of God is within you.
 

And he said unto me. My grace is sufficient for thee:

For my strength is made perfect in weakness.

 Most gladly therefore will I rather glory in my infirmities, in reproaches, in necessities, in persecutions, in distresses for Christs sake: for when I am weak, then am I strong. 


 2 Corinthians 12: 9&10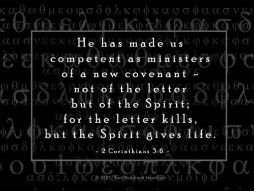 Verily Verily I say unto you, He that believeth on me, the works that I do shall he do also; and greater works then these shall he do; because I go unto my Father.
John 14:12
 Right now three things remain: faith, hope, and love, but the greatest of these is love.
1 Corinthians 13:13
Love one another as I have loved you.
John 15:12
            ~~~~~~~~~~~~~~~~~~~~~~~~~~~
 And it shall come to pass afterward, that I will pour out my spirit upon all flesh; and your sons and your daughters shall prophesy, your old men shall dream dreams, your young men shall see visions.
Joel 2:28